News
Accident
Posted: Aug 27, 2015 6:38 AMUpdated: Aug 27, 2015 9:22 AM
Ramona Traffic Accident Sends Two to the Hospital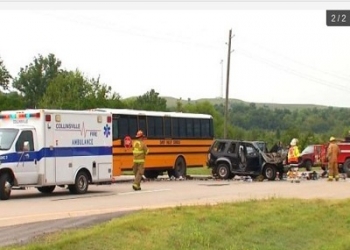 Diane Coston
Traffic on Highway 75 in the Ramona area is slowing due to an accident involving three vehicles and a school bus. Newson6 is reporting that the bus was stopped for students with a red pickup stopped in the lane next to it. The driver of a black SUV coming up on the vehicles, did not stop, hitting the red pickup and forcing it to hit another red pickup.
Washington County Emergency Director Kary Cox reports that the school bus was NOT hit by any of the vehicles involved. The driver of the black SUV was pinned for about 30 minutes and has now been taken to a Tulsa hospital with what is reported as serious injuries. Newson6 reports that it appears one person in one of the trucks had minor injuries.
The Oklahoma Highway Patrol is on the scene of an injury school bus crash in Washington County. Troopers said the crash is impacting both north and southbound traffic on Highway 75 in Ramona. Photo courtesy of Newson6.
« Back to News