News
Sports
Posted: Oct 12, 2018 7:14 AMUpdated: Oct 12, 2018 8:20 AM
Bruins and Bixby Square Up in District Battle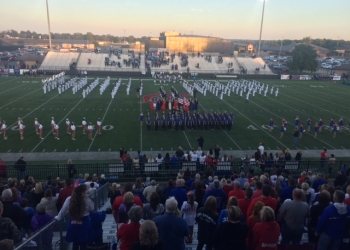 Evan Fahrbach
Bartlesville High is on the road at Bixby on Friday, for maybe its toughest game of the season - and that is saying something.
The Bruins will be taking on its 4th team that is ranked in the top five of the state in their first seven games this season.
The Spartans are undefeated in district play at 3-0, they are 5-1 overall, their only loss of the season is to Jenks back on zero week on Aug. 24.
The Bruins are no stranger to taking on some of the best programs in the state. The middle and front part of the 2018 schedule has been littered with state title contenders. BHS has had a few of those squads, Collinsville, Del City, Booker T. Washington, on the ropes. Here is Bruin head coach Lee Blankenship.
Bartlesville is riding a three-game losing streak to Bixby. The Bruins last knocked off the Spartans in 2015 on the road, when Bixby was ranked at No. 1 in the state and was undefeated.
The game will have a 7:00 PM kick, with a 6:30 pregame on KWON – AM 1400 and FM 93.3.
You can also listen online at BartlesvilleRadio.com and on the Bartlesville Radio App.
« Back to News