News
Local Fires
Posted: Jan 13, 2014 10:17 AMUpdated: Jan 13, 2014 10:17 AM
Winds Raised Fire Danger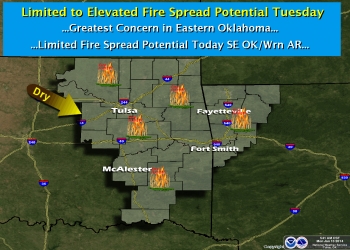 The Associated Press
Firefighters in central Oklahoma were battling several grass fires and the National Weather Service issued a Red Flag fire warning Sunday for nearly all the state.

Washington County Emergency Management posted on its facebook page that nearly every fire department in the county was called out on a fire Sunday. Fires were reported in Oklahoma, Logan, Lincoln, Canadian and Grady counties Sunday afternoon. No injuries were reported.


The weather service's Red Flag warning was issued for all but the Oklahoma Panhandle and one county in far southeastern Oklahoma and was in effect until 6 p.m. Sunday. The weather service said strong gusty winds contributed to the fire danger and encouraged residents to avoid all outdoor burning activities.
« Back to News