News
Local Schools
Posted: Jan 25, 2014 12:29 PMUpdated: Jan 24, 2014 12:29 PM
Adademic Road Rally Set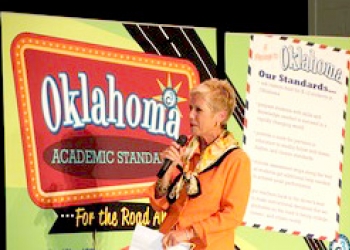 Bartlesville Mid-High School will host the Oklahoma Academic Standards Road Rally on Thursday evening at 6 in the school's auditorium. The event will celebrate the Mid-High School's 2013 National Blue Ribbon Award and feature an address by State Superintendent Dr. Janet Barresi on the Oklahoma Academic Standards.
Mid-High school students will open the event with the Pledge of Allegiance and the National Anthem. Superintendent Dr. Gary W. Quinn and Mid-High Principal Jason Langham will then discuss the significance of National Blue Ribbon Achievement.
Bartlesville Mid-High School was one of only six schools in Oklahoma and 286 schools nationwide to be named a 2013 Blue Ribbon School. Dr. Janet Barresi will discuss the Oklahoma Academic Standards and changes taking place in education in Oklahoma. As part of her address, Barresi will discuss the importance of students being college- and career-ready. Barresi will also discuss details of the new standards and how to support students in "their journey to success."
The event is being organized by the Oklahoma State Department of Education. It is part of the Oklahoma Academic Standards Road Rally series. Similar road rallies are being held at various sites throughout the state. The event is open to the public and all interested individuals are welcome to attend. In total, the event should last approximately one hour.
« Back to News