News
Politics
Posted: Jan 29, 2014 6:53 AMUpdated: Jan 29, 2014 9:55 AM
T. W. Shannon Announces Senate Bid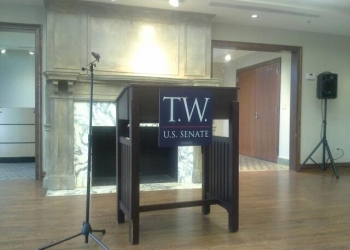 The Associate Press
The speaker of the Oklahoma House of Representatives has formally announce his plan to run for the U.S. Senate seat being vacated by Sen. Tom Coburn. Lawton Republican T.W. Shannon made the announcement Wednesday morning in Tulsa, Oklahoma City and his hometown of Lawton.

Shannon notified his GOP House colleagues on Tuesday that he planned to run for the U.S. Senate. He said he would remain speaker "for the time being" to ensure a smooth transition. He says it's important that Coburn's senate seat stays in GOP hands.

Shannon says he has already heard from friends of his campaign.
Shannon will join two-term U.S. Rep. James Lankford and two lesser-known Republicans in the race for the GOP nomination. A Democrat hasn't been elected to an open U.S. Senate seat in Oklahoma since David Boren in 1978, and Republicans are heavily favored to maintain it. No Democrats have formally announced.

« Back to News