News
Politics
Posted: Jan 29, 2014 9:54 AMUpdated: Jan 29, 2014 9:54 AM
Shannon Announces Candidacy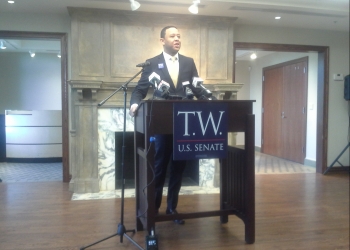 Oklahoma Speaker of the House T.W. Shannon held a press conference in Tulsa Wednesday morning to announce his candidacy for the open U.S. Senate seat. Shannon said that this decision was not an easy one, but the only one he could make.
Citing his work as Oklahoma Speaker in reducing the state's debt, Shannon talked about the need to reduce the national debt as well.
Shannon closed by saying that although it will be different working in the U.S. Senate, he believes that these changes can be made.
To hear all of Speaker Shannon's remarks from Wednesday's press conference, click here.
« Back to News