News
Local police
Posted: Jun 24, 2014 11:51 AMUpdated: Jun 24, 2014 11:58 AM
Bartlesville Police Seek Information on Sexual Battery Incident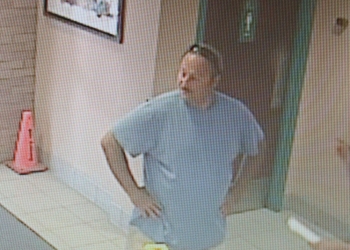 Charlie Taraboletti
Bartlesville Police are investigating a sexual assault which occurred Thursday, June 19th. The incident occurred at the Bartlesville public Library located at 600 se Johnstone.
A female library patron had left the restroom when an unknown white male approached her in the front lobby. The man started a friendly conversation with the woman, claiming he thought he knew her from somewhere before. The man shook hands with her a few times during the conversation and eventually pulled her closer, whispered into her ear, and groped her on the buttocks. The suspect was seen leaving the area in a blue single-cab pickup, possibly a 2000 model Chevrolet.
We have posted pictures of the man as part of this story online. If you have more information on the incident or if you can identify the suspect in the photo contact Investigator Josh Patzkowski with the Bartlesville Police Department 918-4061. You can leave an anonymous tip. Just call Crime Stoppers at 918- 336-CLUE (2583).
« Back to News