News
U.S. House
Posted: Jul 09, 2014 5:19 AMUpdated: Jul 09, 2014 5:19 AM
Bridenstine Denies Funding Request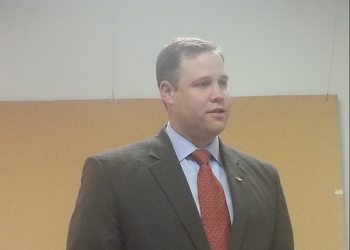 Charlie Taraboletti
The President sent his supplemental appropriations request to Congress. It is for $4.3 billion. That's significantly more than the expected $1.9 billion. Of the $4.3 billion, $600 million is to fight wildfires, an unrelated issue.
First-District Congressman Jim Bridentstine says the President's request does nothing to address the root causes of the problem -- which are lax border security and the administration's indirect encouragement of illegal immigration through executive orders.
Congressman Bridenstine said, "The Secure Fence Act of 2006 requires 100% operational control of the southern border. According to the GAO, the U.S. only has operational control over 44% of the southern border. Bridenstine says we need to gain full operational control of the southern border by immediately deploying the National Guard to back up the Border Patrol and finishing construction of 700 miles of double-layer fence, which has proven to work where installed.
Bridenstine goes on to says "without breaking posse comitatus, the National Guard can provide command and control, communications, intelligence, surveillance and recognizance and be a force multiplier for our Customs and Border Protection officers while the long term infrastructure is being completed.
« Back to News