News
U.S. Senate
Posted: Jul 09, 2014 5:27 AMUpdated: Jul 09, 2014 5:27 AM
Inhofe Points Out Obamacare Problems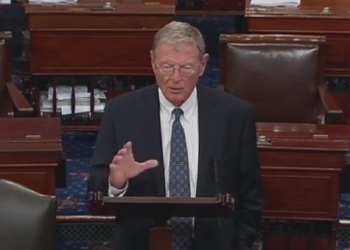 Charlie Taraboletti
Senator Jim Inhofe shared stories of Oklahomans who have suffered problems because of Obamacare on the senate floor on Tuesday. Inhofe said many Oklahomans have come to him with truly heartbreaking accounts of how Obamacare has impacted them. He says their family budgets are taking the hardest hits, both directly with increases in premiums and deductibles and also indirectly by having their work days and week hours cut.
According to the senator, since the roll out last fall, his office has been flooded with stories from Oklahomans who found ObamaCare to be one massive broken promise from the president. These stories include a woman from Broken Arrow who reported a 20 percent increase in her monthly premiums. A father from Owasso, shared a story of his son and daughter, who serve as missionaries in Indonesia and their healthcare deductibles in the U.S. have more than doubled from $1200 per person to $2600 per person.
One teacher from Copan who teaches adjunct college classes, shared that not only did she have her work hours cut, but she is now paying $950 a month in premiums for health insurance, with a $6000 deductible.
This November, a new open enrollment period will begin and at least one state, Virginia, has already reported a 22 percent in increases to one of their insurers' premium costs for 2015. While Oklahoma has yet to release its numbers, Inhofe says he suspects, and fears, that we could follow.

« Back to News