News
Local police
Posted: Jul 11, 2014 10:16 AMUpdated: Jul 12, 2014 4:47 AM
Bartlesville Police Save a Life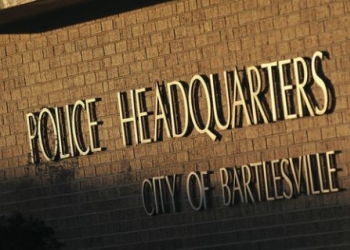 Charlie Taraboletti
Bartlesville Police Officers likely saved a live Friday morning. According to Police Department Public Information Officer Jay Hastings, officers Cheyenne Lee and Jarred Burdick were on routine patrol early Friday morning around 12:26 when they discovered a boater in trouble on the city owned Hudson lake north west of Bartlesville in Osage County.
Patrol Officers routinely check the lake before closing the gates each night. In the process of their duties they saw a pickup parked near the boat ramp. When the Officers got out to investigate they could hear someone off shore yelling for help. Chief of Police Tom Holland says the officers quickly discovered a partially submerged john boat approximately 50 yards off shore.

The Officers both entered the water and found a man with his feet trapped under the water in the sinking boat. One Officer swam out to the boat and pulled the man to safety while the other Officer kept a flash light on the boat and notified dispatch.
Emergency personnel responded to the scene to treat the victim. Bartlesville Fire Department later was able to recover the sunken boat from the lake. The man stated he had been on the water before dark and had accidentally tipped the boat causing water to come in. The man was checked at the scene and did not need to be transported to the Hospital.
Holland commended the officers for their quick action.
« Back to News