Sports » Latest News
Sports
Posted: Dec 05, 2015 6:21 AMUpdated: Dec 05, 2015 7:24 AM
Bruins Split with Owasso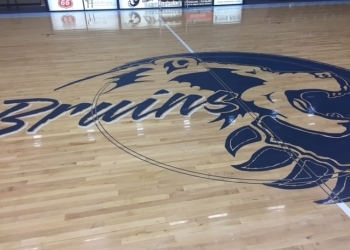 Fans who came to Bruin Fieldhouse on the opening night of BHS basketball in Bartlesville on Friday evening were treated to a couple thrilling games.
Owasso came up HWY 75 for a double header and it ended in a split. The Lady Bruins won, 40-35, while the Bruins lost 55-48 in overtime.
On the ladies side, Fueled by 16 fourth quarter points, BHS outlasted Owasso for Krista Binam's first win as Lady Bruin head coach.
Lauryn Washington had a coming out party. The senior-starter, who spent the vast majority of last year injured, scored 19 points in the win. Ronni Gilliard added in seven with solid play off the bench.
---
For the boys, BHS came back from nine down in the fourth quarter to lead Owasso by 1-point late in the ballgame. However, the Rams would force OT and win in the extra frame going away.
AJ Archambo hit a three-pointer off a Ram turnover that gave BHS the lead 46-45 with 50 second remaining. However, Kinzer Lambert scored a bucket for Owasso two possessions later that gave the Ram's the lead right back, 47-46.
Archambo would then be fouled on a shot with 3.8 seconds left in regulation. He made one of two free-throws to force OT, but the Bruins couldn't keep up in the fifth period.
AJ Parker and Barron Tanner each scored 13 to lead BHS.
It was scoring droughts that kept Bartlesville from keeping control of the game. BHS managed just seven points in the third quarter, and one point in overtime. The Bruin's defense flummoxed Owasso throughout much of the contest.
Parker and Archambo combined for 24 points on Friday night. The great outings on Friday were two days removed from the season opener at Muskogee, where the two football players combined for three points. That is a good sign for head coach Clent Stewart.
Two of his best players are acclimating after a short turnaround from the gridiron to the hard court.
Both BHS teams play at Sapulpa on Tuesday. The Lady Bruins will first play a game in the Inola Tournament on Monday. That tourney runs all week long for the girls.
The Bruins will ready for their early-season tournament at Bixby starting on Thursday following the double-header against the Cheiftains.
« Back to Sports