Sports » Latest News
Caney Valley Football
Posted: Oct 19, 2021 3:18 PMUpdated: Oct 19, 2021 4:18 PM
Caney Valley Looking for Sixth Win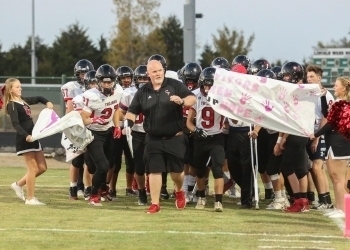 The Caney Valley football team is continuing to play impressively as the back stretch of the season is nearing. The Trojans are 5-2 after winning a non-district game at North Rock Creek 33-14 last Thursday.
Ethan Nichols had a break out game at running back as he toted the ball 31 times for 165 yards and two touchdowns. This is the third time Nichols has gone over 100 yards this season. Head coach Stephen Mitchell says that Nichols has settled into the running back role nicely.
Caney Valley now shifts its focus to Chouteau. The Trojans have a chance to win their sixth game of the season—something that has not happened since Mitchell took over the head coaching job prior to the 2016 season. Mitchell says that the program's hard work is starting to pay off.
Caney Valley plays two of its final three games against teams with records below .500. The Trojans need to win at least two games to clinch a playoff spot. CV will head to Chouteau Friday for a 7 p.m. kickoff.
« Back to Sports