Sports » Latest News
Oklahoma Union Basketball
Posted: May 16, 2022 4:10 PMUpdated: May 16, 2022 5:16 PM
Hall Returns to Coach OKU Through Transition Period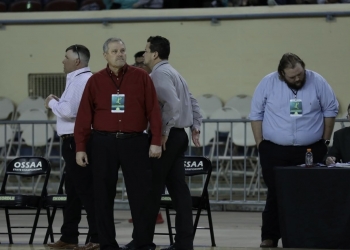 Oklahoma Union has made its boys' basketball coaching hire. Longtime head coach Brad Hall will step up to head coach once again to lead the Cougars. Former head coach Lee Ott resigned last month to take the girls' basketball head coaching job at Claremore-Sequoyah, his alma mater.
Hall was the first coach in OKU history as he was hired originally after the school's inception. He served as head coach from 1990 to 2014 before stepping aside from coaching.
Hall returned to the bench as assistant in 2018 and helped the Cougars win the 2A state title in 2021 and make another state tournament appearance in 2022. Hall said it was fun to be along for the ride.
Hall currently serves as the school's athletic director. He says they offered the job to three different candidates but could not get any takers. Hall plans to only coach the team for one season and guide the Cougars through a transition period.
Former Cougar Kolton Stacy, who played basketball at NOC-Tonkawa is returning to the school as an assistant coach. Longtime assistant Cordell Jackson will remain on staff as well.
(PHOTO COURTESY: Oklahoma Union Cougars Fans / Facebook)
« Back to Sports