Sports » Latest News
Sports
Posted: Jun 23, 2022 7:09 AMUpdated: Jun 23, 2022 8:11 AM
Indians Earn Split with Three Rivers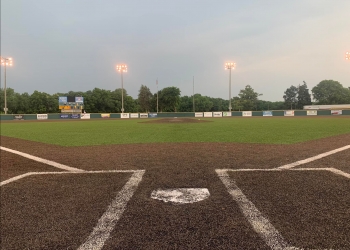 The Doenges Ford Indians rallied to get a split against their rival Three Rivers Bandits on Wednesday night at Bill Doenges Memorial Stadium, as the Tribe will be off from competitive games for a handful of days.
Bartlesville lost to the Bandits 10-1 in the first game, but surged to a 3-2 victory in the second.
Indians did not get a whole lot done in the first contest on either side. Three Rivers scored in six of its seven at-bats and the Tribe could not muster enough offense to match.
The Indians had only four base hits, one of them a triple from Jakob Hall in the bottom of the seventh. Hall would score on a wild pitch for the Indian's only tally in the nine-run defeat.
Meanwhile the second game was pitchers dual.
Hall made his first start on the bump the summer and the Oral Roberts' righty dazzled. Four shutout innings and seven strikeouts for Bartlesville's D-I star. The Indians would score two off a Bandit error in the second inning, then tacked on another off this Harrison Clark single in the third.
Relief pitchers Hayden Fiddler and Cole Hancock had gutsy performances to finish out the game. Fiddler worked out of a jam in the sixth with three consecutive strikeouts.
Hancock would enter for the seventh and get Bartlesville its second save of the year with this final out of the contest.
This is the first time since 2016 that the Indians have beaten Three Rivers more than once in one season. The club split with the Bandits back on May 29, as well.
Bartlesville is 16-8-1 on the year and will host the Collegiate Turf and Dirt Showcase this weekend, a camp for college coaches to see the Tribe and some others.
Next game for Bartlesville will be on Tuesday when the Indians travel to Edmond for Oklahoma Collegiate League play.
The Glen Winget Tournament begins on Friday, July 1.
« Back to Sports