Sports » Latest News
Sports
Posted: Jun 27, 2019 7:04 AMUpdated: Jun 27, 2019 8:04 AM
Indian's Fall Twice at Shawnee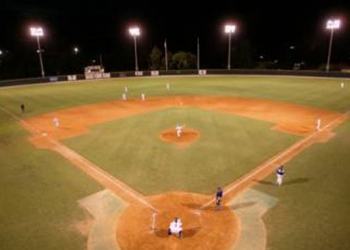 The Doenges Ford Indians lost a couple more games on the road Wednesday night, as an early lead wouldn't hold in game two of a double-header for Bartlesville's summer baseball team.
Shawnee made it a perfect 5-0 against the Indian's this year with two run-ruled victories over Bartlesville, a 12-0 win in four innings in game one, and then a 12-4 victory in six innings in game two. The second game will be harder to swallow for the Indian's. Bartlesville carried a 4-3 lead into the fifth inning until the bullpen fell apart.
The Indian's surrendered nine runs in the fifth and sixth innings to give up the lead and the game.
There were some bright spots, including Shawn Sutton, who had a great day at the plate. The Caney Valley Bullpup went 3-3 with three RBIs in game two, including this solo shot in the fifth.
Bartlesville drops to 1-20-1 with the loss. The Indian's finally return home for three games starting on Thursday. An 8:00 PM first pitch against the Ada Braves. Ada then returns to Bill Doenges Memorial Stadium on Friday afternoon at 3:00 PM for a double-header.
Thursday's single game can be heard on KWON – AM 1400 and FM 93.3. Pregame set to begin about 7:55.
« Back to Sports