Sports » Latest News
Sports
Posted: Jan 12, 2019 6:05 AMUpdated: Jan 12, 2019 7:16 AM
Lady Bruins to Play for Tourney Title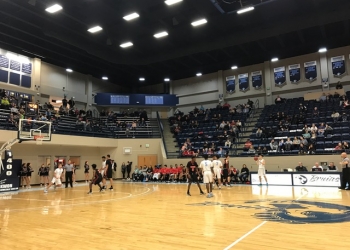 Bartlesville High basketball split a pair of games at the ConocoPhillips Arvest Invitational on Friday evening – and both teams will play one last game on Saturday to round out the weekend.
The Lady Bruins are into the championship game of the tournament after pounding Southmoore 64-43 in th semis.
Bartlesville put pressure on the Lady Sabercats from the very beginning, leading by 17 at halftime and as many as 22 before the break. Chloe Martin was the highlight reel. She had 26 points and was the only Lady Bruin in double figures. This Martin three was setup from Jena' Williams.
William's had multiple assists on the night and seven points. BHS has won seven in a row and improves to 10-2. Bartlesville now faces Norman for the title game tonight at 7:00. Norman topped Del City 54-34.
Lady Bruins vs Southmoore Box Score
---
On the guy's side, Bartlesville again showed flashes, but Southmoore was a bit more consistent down a stretch. A big rally to begin the second half gave the Sabercats a 53-45 win.
Bartlesville had only 26 points at the end of the third quarter. BHS would fall behind by 14 before a big comeback in the fourth quarter got them within three in the final minutes.
Bartlesville drops to 4-6. The loss does allow the Bruins to avenge a loss from earlier in the year. BHS will face Stillwater in the third place game on Saturday afternoon. 5:30 scheduled tip off. Stillwater topped Bartlesville 51-38 in the finals of the Broken Arrow Invitational back on Dec. 8.
Bruins vs Southmoore Box Score
Boys at 5:30 vs. Stillwater. Girls at 7:00 vs Norman will both air on KWON - AM 1400 and FM 93.3.
Full Friday Results and Saturday Schedule for ConocoPhillips Arvest Invitational
« Back to Sports