Sports » Latest News
Dewey Baseball
Posted: Jun 25, 2019 2:45 PMUpdated: Jun 25, 2019 3:45 PM
LaRue Holding Steady in Double-A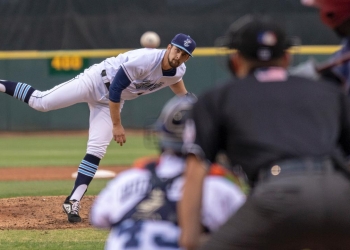 Former Dewey standout Carson LaRue is continuing his first season in Double-A in the Houston Astros organization. LaRue has seen mixed results pitching for the Corpus Christi Hooks in the Texas League.
After seeing his ERA balloon in the month of May, LaRue has started putting up improved numbers in a few recent outings. The right-hander has allowed 11 runs over 22 1/3 innings this month. His best outing came against Arkansas on June 11 in which he logged his first career complete game while allowing just two earned runs. Unfortunately, it was in a losing effort.
Despite his 11 starts in 2019, LaRue has just a 1-3 record with 5.34 over 62 1/3 innings. LaRue is on pace to log over 100 innings for his third consecutive minor league season. Although, with the Astros gearing up for a playoff run at the major league level it is hard to believe that LaRue would see himself in line for a call up this season.
LaRue continues to be the only player with local ties in a Major League Baseball organization.
(PHOTO COURTESY: milb.com)
« Back to Sports