Sports » Latest News
Sports
Posted: Mar 14, 2017 10:11 PMUpdated: Mar 15, 2017 11:45 AM
OKWU Baseball Take 2 At Dallas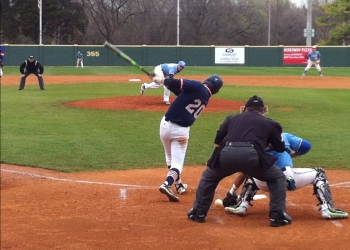 Oklahoma Wesleyan University Eagles baseball team won two games at Dallas Tuesday afternoon. The Eagles won 16-6 over Morthland and won 19-6 over Dallas Christian.
OKWU trailed Morthland 2-0 early in the ballgame. After that, it was all Eagles as they scored seven runs in the top of the third and never trailed again. Brayden Nelson got the win on the mound. In over six innings of work, Nelson gave up six runs on seven hits and struck out six. Will Price went 2 for 3 with 4 RBI's.
Against Dallas Christian, the Eagles got off to a fast start, scored a run in the first, two runs in the second, five runs in the third, six runs in the fourth, and five more runs in the top of the sixth inning.
The Eagles are 23-5 this second. The second ranked Eagles are back in KCAC action this Friday and Saturday as they will host a three-game series against Bethany College. All the games will be played at Doenges Stadium.
« Back to Sports