Sports » Latest News
Sports
Posted: Mar 17, 2017 9:46 PMUpdated: Mar 17, 2017 10:46 PM
OKWU Baseball Take Game 1 To Bethany College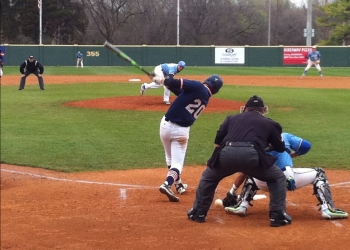 Oklahoma Wesleyan University Eagles baseball team took the first of a three-game series against Bethany College Friday afternoon at Bartlesville. The second ranked Eagles picked up their 24th victory of the season with a 10-5 win over the Swedes.
The Eagles scored six of their 10 runs in the bottom of the fourth inning to secure their victory. Alejandro Hernandez went 2 for 2 with a homerun, a double, and 2 RBI's. Trevor Achenbach, Will Price, Hunter Henry, Ryan Jones, and Mikey Ortega each got two hits. As a team, OKWU finished with 14 hits. Zach Johnson got the win on the mound. In seven innings of work, Johnson gave up five runs on nine hits and struck out four Bethany batters.
The Eagles are 24-5 overall this season. Both teams will play a double-header Saturday at Noon at Doenges Stadium.
« Back to Sports