Sports » Latest News
Sports
Posted: Mar 17, 2017 9:38 PMUpdated: Mar 17, 2017 10:38 PM
OKWU Softball Splits With USAO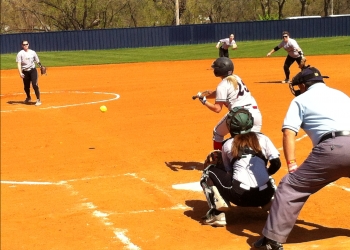 Oklahoma Wesleyan University Lady Eagles softball team split a double header Friday afternoon in Bartlesville against USAO. Lady Drovers won 5-3 in the first game and the Lady Eagles won the second game 4-3.
In the first game, the score was tied at two after three innings of work when USAO took the lead for good, scored a run in the fourth, sixth, and seventh innings to take game one. Lady Eagles Ashleigh Capps took the loss on the mound. She went the distance giving up five runs on 12 hits and struck out three batters. Michaela Shouldis went 2 for 3 with a RBI.
OKWU responded the the second game as they scored the winning run in the bottom of the sixth inning. Makayla Kelly got the win on the mound. In over three innings of work, Kelly gave up a run on four hits and struck out two. Shouldis went 3 for 3 at the plate.
Lady Eagles are now 9-14 overall this season. OKWU will next be in action on March 22nd as they will host a double header against Sterling College.
« Back to Sports