Sports » Latest News
Sports
Posted: Dec 13, 2016 10:00 PMUpdated: Dec 13, 2016 11:00 PM
OKWU Splits With York College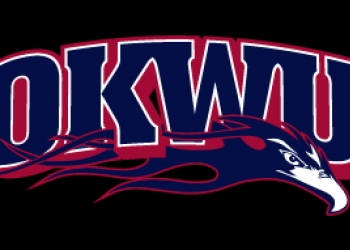 Oklahoma Wesleyan University Eagles and Lady Eagles split a KCAC double header Tuesday night in Bartlesville against York College. Lady Eagles won 79-67, but the Eagles quest for an upset fell short 85-84.
The mens game was exciting from start until finish. Eagles led early 5-2, but the 15th ranked Panthers turned around and led for the rest of the first half. York College led 41-28 at halftime, but a strong second half by the Eagles outscored the Panthers 56-44 in the second half. OKWU led by two with a few seconds remaining when Panthers Johnny Cooksey made a shot and was fouled to tie the game with 1.4 seconds left. Cooksey completed the three point play to take an one-point led. OKWU's Breiman Alexander's half court shot was short and York College survived the one-point win. For the second straight game, Alexander scored over 30 points. He finished with 34 points, seven rebounds and three assists. Two OKWU players finished with a double-double. AJ Jack finished with 10 points and 14 rebounds while Derrick Bowers added 10 points and 10 rebounds. Jake Feickert finished with 12 points. Eagles out rebounded the Panthers 54-46, but shot 37 percent from the field. Cooksey led the Panthers with 22 points. The Eagles fall to 6-8 overall and 4-4 in KCAC play. The Eagles will host Ozark Christian College Thursday evening at 6 o'clock.
In the ladies game, OKWU started the game strong, led 27-12 after the first period. York College came in winless this season, kept the game close for the rest of the game. Tiffany Rieger led the Lady Eagles with 16 points, all in the first half. Shelbie Kirby finished with 14 points. Kayla Morgan came off the bench and finished with 12 points, went 4 of 5 from the field. Amanda Hart added 10 points. Patience Gitau picked up a double-double for the second time this season, finished with 10 points and game high 11 rebounds. As a team, Lady Eagles shot 43 percent from the field and out rebounded the Lady Panthers 46-39. York's Justine Manjarrez led with 21 points. Lady Eagles improve to 8-6 overall and 4-4 in KCAC play. OKWU will host Northwestern Oklahoma State University in an exhibition Saturday afternoon at 3 o'clock.
« Back to Sports