Sports » Latest News
Sports
Posted: Aug 03, 2022 8:03 AMUpdated: Aug 03, 2022 9:03 AM
Rigdon And Clark Both Sign NLIs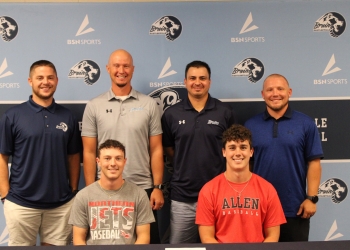 Two Bartlesville high baseball stars made their college destinations official on Tuesday.
Bradee Ridon and Harrison Clark both had their signing ceremonies at BHS yesterday. As we had previously reported, Rigdon is headed to NOC Enid. Meanwhile Clark has inked with Allen Community College in Inola, Kansas.
Bruin head coach Cody Price talks about Rigdon's resurgence in 2022.
Both Rigdon and Clark were seniors and graduated in May. Both were also found in the top of the Bruin lineup this past spring. Rigdon hit .321 with 14 extra base hits. He also operated as Bartlesville's number two starter. Meanwhile Clark hit .296 with 13 extra base knocks.
Price talks about Clark's senior year.
Those two and Mason Moody were the only seniors on last year's Bartlesville baseball team, which went 25-14.
« Back to Sports