Sports » Latest News
Dewey football
Posted: Jun 27, 2019 4:28 PMUpdated: Jun 27, 2019 5:28 PM
Skill Players Impress in Dewey Passing League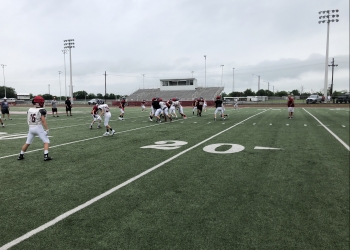 Dewey Football first-year head coach Trent Turner likes what he has seen so far as the Doggers wrapped up another phase of their offseason. The Bulldoggers just finished a three-week session of 7-on-7 passing league where they hosted Barnsdall, Caney Valley, Inola and Bartlesville JV.
Coach Turner says that a lot offensive players made great strides during the session. He mentioned Hayden Thornton as a player who has a chance to play a major role in the offense with his ability to stretch the field from the wide receiver position. Corbin Buford and Jack Davis also showed playmaking ability. Turner said the progression of senior quarterback Kale Carner also caught his attention.
The Bulldoggers will not participate in any activities next week as it the state-mandated dead week. Turner says after the focus will be in the weight room as the team gets ready for the season opener against Adair on August 30.
« Back to Sports