Sports » Latest News
Sports
Posted: Jun 15, 2017 8:24 AMUpdated: Jun 15, 2017 9:24 AM
Three-Rivers Sweeps Indians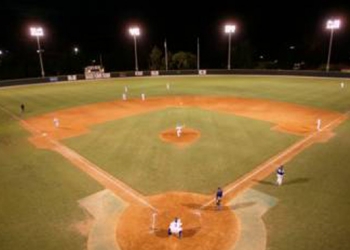 The Doenges Ford Indians couldn't hold any momentum Wednesday night against Three-Rivers. The Bandits came into Bill Doenges Memorial Stadium and swept Bartlesville.
The Indian's dropped game one 6-5, then were run-ruled in game two 14-4.
In game one, the Indian's trailed Three-Rivers 5-1 going into the bottom of the fifth inning. Bartlesville struck for four runs to tie it, but had a runner thrown out at the plate. The run would have given them the lead at the time. The big blow in the frame came on this Zach Snow double.
The run cut down at the plate would be huge, as Three-Rivers scored an unearned run in the top of the sixth to take that eventual winning margin, 6-5.
In game two the Indians fell behind 9-1 in the top of the second inning and never battled back. A three-spot by the Bandits in the top of the sixth gave Three-Rivers enough to run-ruled the Indians by 10 in six innings. Bartlesville is 0-3 against Three-Rivers this season. The Indians drop to 10-6-1.
Bartlesville's American Legion baseball team stays at home this weekend for double-headers against Ada.
Games Friday and Saturday we will have them both on KWON – AM 1400 and FM 93.3.
« Back to Sports