Sports » Latest News
Sports
Posted: Sep 22, 2023 6:32 AMUpdated: Sep 22, 2023 8:04 AM
Bartlesville Football at Booker T. Friday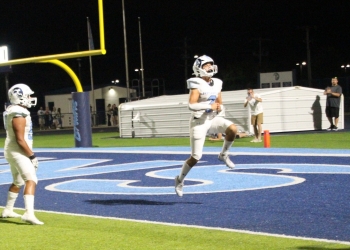 Bartlesville High football will try to get its first win on the road at Booker T. Washington on Friday night in the Bruin's District opener.
BHS is 0-3 on the year despite outgaining their opponents by 250 yards through the first three games of the season. Special teams' miscues, turnovers and penalties are the three biggest things standing between Bartlesville and a winning record.
BHS found a bonus in the run game last week, with quarterback Brett Eaves running for more than 10-yards a carry. Combine him with starting tailback PJ Wallace and backup Stefen Williams and the Bruins have great options on the ground.
Head coach Harry Wright talks about his QB running the ball.
Bartlesville is 0 for its last 13 against Booker T. The Bruins have not come particularly close to knocking off the Hornets over the past five years. However, Booker T. enters at 1-2 with a bunch of new players.
Wright talks about keys for a Bruin win.
A 6:30 pregame with a 7:00 kick from north Tulsa on KWON – AM 1400, FM 93.3 and 95.1. Video coverage on KWONTV.com Friday evening.
« Back to Sports