Sports » Latest News
Sports
Posted: Sep 29, 2022 8:03 AMUpdated: Sep 29, 2022 9:03 AM
Nowata Has Tough Task at Vinita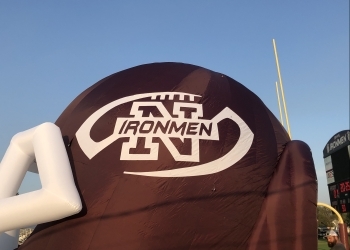 The Nowata Ironmen football team is coming off of the strange circumstance of last week's forfeit win over Caney Valley - ultimately winning 15-0.
Nowata is at .500, 2-2, on the season, with their toughest game to date on the schedule coming up this Friday when they head to Vinita to face the 4-0 Hornets.
Nowata is on their first 2 game win streak since 2019 and is trying to ride that momentum into the matchup on Friday.
Nowata Head Coach Chance Juby talks about things have progressed this season for Nowata.
The Hornets are 4-0 and are averaging 43.8 points per game, while only allowing an 11.5 per game to their opponents.
This is what Ironmen Head Coach Chance Juby had to say about what practice has been like the last two weeks headed into Vinita.
That game will kick off on Friday night at 7:00 pm and we will have more on this game over the weekend.
« Back to Sports