Sports » Latest News
Sports
Posted: Sep 20, 2023 7:05 AMUpdated: Sep 20, 2023 8:05 AM
WCS Down Another QB in District Opener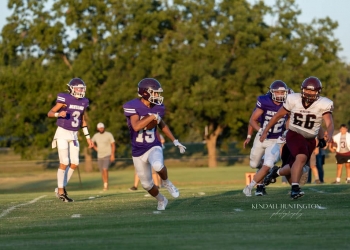 Wesleyan Christian School will begin District play on Friday night, but the Mustangs are now more short-handed than ever.
A scary scene this past week in the WCS game at Barnsdall, as backup quarterback Kael Siemers had to go to the hospital following an injury to his back.
He was ultimately fine and will make a full recovery, however it leaves the Mustangs with their third-string quarterback until their usual signal caller, Tyrel Cloud, can come back from his preseason injury.
Barnsdall would go on to win the game, 54-7.
Head coach Curt Cloud talks about his team's reaction to having another QB go down.
WCS entered the season with nearly all its starters back on a team that primarily ran a spread offense. At least for a few weeks, the Mustangs may have to reinvent themselves with the football.
Cloud talks about what Wesleyan Christian plans to do on offense moving forward.
Despite being short-handed, this Friday's game will be a winnable one. WCS will travel to Oaks-Mission for its District opener at 7:00.
Oaks is 1-2 on the season.
(Photo from Kendall Huntington Photography)
« Back to Sports