Dog GONE
Dog Gone is heard on each of our stations daily. When we receive an announcement, we air it for at least 10 days before discarding it. If your animal is lost or found within that time period, please let us know, so we will discontinue airing the announcement. Click HERE to submit an announcement. If your animal has been found, please contact us at (918) 336-1001 or email sharon@bartlesvilleradio.com as soon as possible so we can remove it from our list. We retain the right to edit any postings.
Here are links to local websites: Washington County SPCA www.wcspca.org and ARF www.arfok.org
Bronco Blonde - Lost
Species: Other
Sex: Male
Collar: No
Color: Black
Breed: Angus/Bovine
Area Lost: Sand Creek west of Osage Tag office
Contact: Connie Wilson
Phone: 918-440-3915
Email: okmscon@sbcglobal.net
Date: 2018-01-20
Time: 8:00 A.M.
Black Angus Bull Calf approximately 250 to 300 lbs. Bottle baby
Wrongway - Lost
Species: Dog
Sex: Male
Collar: Yes
Color: Black with white chest, and front paws
Breed: Pitbull mix elderly dog
Area Lost: N4010
Contact: Bob Powell
Phone: 479-524-2824
Email: Sherylculpepper@yahoo.com
Date: 2018-01-01
Time: Late evening
Wrongway is an elderly 13 year old pitbull mix. He's black with white chest chin and front paws. He has a grey Nuzzle and was wearing a blue collar.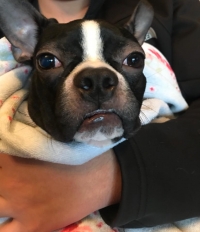 Hank - Lost
Species: Dog
Sex: Male
Collar: No
Color: Black/white
Breed: Boston Terrier
Area Lost: Jo Allan Lowe Park
Contact: Victoria Peaster
Phone: 918-440-9556
Email: peasterjon@yahoo.com
Date: 2018-01-14
Time: 3:15 PM
Very sweet and timid Boston Terrier puppy named Hank. He has a seizure disorder requiring daily medicine. Please keep an eye out for this little guy. Thank you very much.