Dog GONE
Dog Gone is heard on each of our stations daily. When we receive an announcement, we air it for at least 10 days before discarding it. If your animal is lost or found within that time period, please let us know, so we will discontinue airing the announcement. Click HERE to submit an announcement. If your animal has been found, please contact us at (918) 336-1001 or email sharon@bartlesvilleradio.com as soon as possible so we can remove it from our list. We retain the right to edit any postings.
Here are links to local websites: Washington County SPCA www.wcspca.org and ARF www.arfok.org
Found
Species: Dog
Sex: Male
Collar: Yes
Color: Brown and white
Breed: Mix
Area Found: Bison and Durham
Contact: Caitlin
Phone: 918-977-0769
Email: caitlinbstaehle@yahoo.com
Date: 2015-03-29
Time: 11am
Mid sized brown and white male dog. He is very sweet. Not neutered. Brown leather collar.
Lost
Species: Dog
Sex: Female
Collar: Yes
Color: White
Breed: Bichon (kind of like a poodle)
Area Lost: Sante Fe and Hensley
Contact: Rita
Phone: 918-397-3530
Email: r_beayrd56@yahoo.com
Date: 2015-03-26
Time: 12:00
Small fluffy white dog. skiddish and generally will not come to people except maybe females. Has a collar on with name tag.
Found
Species: Dog
Sex: Female
Collar: No
Color: golden brown brindle
Breed: Mixed breed
Area Found: Vera
Contact: Kathryn
Phone: 918-371-2782
Date: 2015-03-26
Time: afternoon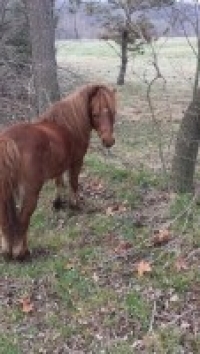 Found
Species: Other
Sex: Male
Collar: No
Color: sorrel/chestnut
Breed: miniature horse
Area Found: 3 miles south on highway 123
Contact: Maranda Swindell
Phone: 918-914-9000
Email: mandigirl1980@yahoo.com
Date: 2015-03-25
Time: evening
Sorrel male miniature horse, appears gelded
Found
Species: Dog
Sex: Male
Collar: No
Color: Brown black face white paws
Breed: Min-pin mix
Area Found: Oak park
Contact: Jane
Phone: 918-691-3868
Email: Jadunb@aol.com
Date: 2015-03-23
Time: afternoon
Old and acts like he can't see well
Princess - Lost
Species: Cat
Sex: Female
Collar: Yes
Color: mutil
Breed: Persian
Area Lost: Harvard
Contact: Heather
Phone: 918-841-8519
Email: marypoppinshg@gmail.com
Date: 2015-03-21
Time: Saturday
Jazzie - Lost
Species: Dog
Sex: Female
Collar: No
Color: Silver and gold
Breed: Teacup Yorkie
Area Lost: Turner Pl
Contact: Natosha
Phone: (918) 214-2505
Email: lowco63@yahoo.com
Date: 2014-11-23
Time: Morning
Lost or stolen . Jazzie is a teacup Yorkie that's only 2-3 pounds . Missing from Turner pl of Woodrow. North Westside of town. She has gold face with silver mixed with a little black on her back. $100.00 cash reward no questions asked