Dog GONE
Dog Gone is heard on each of our stations daily. When we receive an announcement, we air it for at least 10 days before discarding it. If your animal is lost or found within that time period, please let us know, so we will discontinue airing the announcement. Click HERE to submit an announcement. If your animal has been found, please contact us at (918) 336-1001 or email sharon@bartlesvilleradio.com as soon as possible so we can remove it from our list. We retain the right to edit any postings.
Here are links to local websites: Washington County SPCA www.wcspca.org and ARF www.arfok.org
Ginger - Lost
Species: Dog
Sex: Female
Collar: Yes
Color: Red/white
Breed: Boston Terrier
Area Lost: Woodland Park Quail Drive
Contact: Kristi
Phone: 918-440-4965
Email: Kcscasemanagement@yahoo.com
Date: 2015-01-28
Time: afternoon
Fatter cute Boston Terrier, she's a puppy mill rescue mommy and doesn't know our neighborhood well enough to make it home. Bradford our male is heartbroken! Please help us find Ginger. Collar is brown wITH flowers, has tags one says Ginger Snap.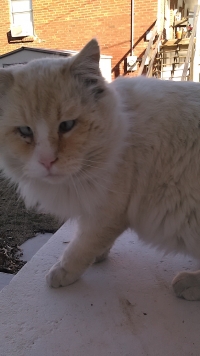 Found
Species: Cat
Sex: Male
Collar: No
Color: White with light brown on face
Breed: Cat
Area Found: Bartlesville, Oklahoma
Contact: Samantha
Phone: 602-561-4108
Email: Samanthahipp@hotmail.com
Date: 2015-01-24
Time: Afternoon
Beautiful white cat with light brown coloring on its face. Very sweet cat. Bright blue eyes. One distinct feature is that it is cross eyed.
Found
Species: Dog
Sex: Female
Collar: No
Color: tan-grey
Breed: Yorkshire Terrier
Area Found: Don Tykler Park in Dewey
Contact: Sandy
Phone: 918-534-2587
Date: 2015-01-27
Time: afternoon
Found
Species: Dog
Sex: Female
Collar: No
Color: White and Black
Breed: Chihuahua mix
Area Found: Cherokee and 13th Streeet
Contact: Jordan
Phone: 918-442-4267
Email: mich_tidw@yahoo.com
Date: 2015-01-21
Time: 10:00 pm
Found female Chihuahua mix. She is white and black with a little brown on the face. She is also missing her right eye. Looking for the owner. Very sweet.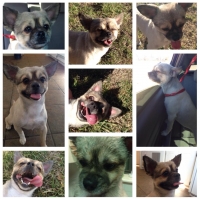 Found
Species: Dog
Sex: Female
Collar: No
Color: Tan
Breed: POM CHI PUG ?
Area Found: Bison / Baylor
Contact: Kathy
Phone: 918-991-9327
Email: meagsmom@sbcglobal.net
Date: 2015-01-23
Time: evening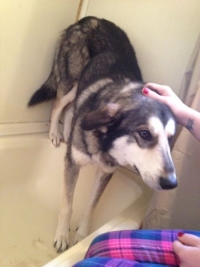 Sasha - Lost
Species: Dog
Sex: Male
Collar: Yes
Color: white, black & gray
Breed: wolf/malamute
Area Lost: 6th & ponca in dewey, ok
Contact: Christa
Phone: 918-397-2158
Email: SinfulDisastersX@aol.com
Date: 2015-01-22
Time: 1:30pm
Sasha is white, black and grey. medium build and has a bright orange collar on.