Dog GONE
Dog Gone is heard on each of our stations daily. When we receive an announcement, we air it for at least 10 days before discarding it. If your animal is lost or found within that time period, please let us know, so we will discontinue airing the announcement. Click HERE to submit an announcement. If your animal has been found, please contact us at (918) 336-1001 or email sharon@bartlesvilleradio.com as soon as possible so we can remove it from our list. We retain the right to edit any postings.
Here are links to local websites: Washington County SPCA www.wcspca.org and ARF www.arfok.org
Found
Species: Dog
Sex: Male
Collar: No
Color: brown-white-black
Breed: Coon Dog-Beagle Mix
Area Found: Adams road and Adams
Contact: Manley Hospital
Phone: 918-333-7286
Date: 2013-05-22
Time:
Dog has been hit and taken to Manley Veterinary Hospital. Call 918-333-7286. Not sure if male or female.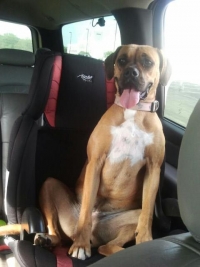 Molly - Lost
Species: Dog
Sex: Female
Collar: No
Color: light brown
Breed: Boxer/Mastiff mix (mutt)
Area Lost: 2200 Rd Bville
Contact: Amber Taylor
Phone: 918-815-6449
Email: number1robo@gmail.com
Date: 2013-05-20
Time: 2 pm
Molly is her name she is a med size dog she has no coller on bc she escapped during the storm yesterday before i could get home to let her in..she has a green tattoo on her belly from her spading..she is VERY GENTLE AND NICE PPL FRIENDLY KID FRIENDLY!!! She loves other animals and shes only a year old! she is my 3 year olds best friend and we just want her home safe!!!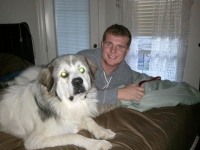 Duke - Lost
Species: Dog
Sex: Male
Collar: Yes
Color: White with a few black spots
Breed: Great pyrenees
Area Lost: Jarret Farm, Ramona, Washington County Oklahoma
Contact: Angie
Phone: 918-281-5465
Email: Angeemackey@yahoo.com
Date: 2013-05-18
Time: Morning
Very friendly, black shock collar. Drools a lot. reward leading to his return, no questions asked.
Lost
Species: Dog
Sex: Male
Collar: No
Color: Black and white
Breed: Chihuahua mix

Contact: n/a
Phone: 918-876-1333
Date: 2013-05-20
Time: morning
Male Chihuahua-Schnauzer mix is missing around Greystone and Frank Phillips. He has medium length wirey black and white fur, is a small dog weighing around 4 to 5 pounds, and not wearing a collar. Missing since Monday May 19th,
Found
Species: Dog
Sex: Female
Collar: No
Color: Brown and white
Breed: Shihtzu
Area Found: Copan School area
Contact: n/a
Phone: 918-534-3706
Date: 2013-05-16
Time: morning