Dog GONE
Dog Gone is heard on each of our stations daily. When we receive an announcement, we air it for at least 10 days before discarding it. If your animal is lost or found within that time period, please let us know, so we will discontinue airing the announcement. Click HERE to submit an announcement. If your animal has been found, please contact us at (918) 336-1001 or email sharon@bartlesvilleradio.com as soon as possible so we can remove it from our list. We retain the right to edit any postings.
Here are links to local websites: Washington County SPCA www.wcspca.org and ARF www.arfok.org
Found
Species: Dog
Sex: Female
Collar: No
Color: Mostly black with white tips on paws
Breed: Chihuahua mix
Area Found: Covington Park neighborhood
Contact: Bethany
Phone: 405-880-4352
Email: bethany.blakemore@gmail.com
Date: 2019-01-17
Time: 9:15 am
Small, friendly dog found. It is mostly black, some graying on head. No collar. One eye looks to be foggy. Good with people and other dog.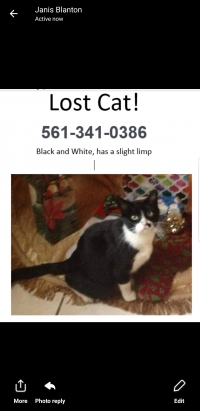 Lost
Species: Cat
Sex: Male
Collar: No
Color: Black and white (Tuxedo)
Breed: American shorthair
Area Lost: SE Madison Blvd. In the Ranch heights area possibl
Contact: Amy van der Galien
Phone: 1-561-341-0386
Email: amykatt1989@gmail.com
Date: 2018-12-24
Time: 12:00am
Gimpy is a black and white Tuxedo cat, he was born with a problem with his right back leg so he walks with a limp. He loves food and is very friendly please help us find him he is very missed!!