Dog GONE
Dog Gone is heard on each of our stations daily. When we receive an announcement, we air it for at least 10 days before discarding it. If your animal is lost or found within that time period, please let us know, so we will discontinue airing the announcement. Click HERE to submit an announcement. If your animal has been found, please contact us at (918) 336-1001 or email sharon@bartlesvilleradio.com as soon as possible so we can remove it from our list. We retain the right to edit any postings.
Here are links to local websites: Washington County SPCA www.wcspca.org and ARF www.arfok.org
Red - Lost
Species: Dog
Sex: Male
Collar: No
Color: White/red
Breed: Brittany
Area Lost: South of Bartlesville
Contact: Mark
Phone: 918-397-4091
Email: Mark.runnels@gmail.com
Date: 2015-04-26
Time: 4:30 PM
6 year old neutered male Brittany. No collar great temperament.
LOST 2 DOGS - Lost
Species: Dog
Sex: Male
Collar: No
Color: black lab and blonde lab
Breed: Labrador Retrievers
Area Lost: Wilson School-Shannon Street area
Contact: Dominck
Phone: 918-507-1860
Date: 2015-04-23
Time: evening
5 year old male black Labrador Retriever named Samson and a 4 year old blonde female Labrador Retriever named Leila, are missing in the Shannon Street area around Wilson School. Been missing since evening of April 22nd.
Lost
Species: Dog
Sex: Male
Collar: No
Color: tan and black
Breed: Pug
Area Lost: last seen 1300 S. Cherokee Battlesville
Contact: n/a
Phone: no phone
Email: sdu21c@yahoo.com
Date: 2015-04-22
Time: 6:10 PM
More info on pug male, tan with black markings, no tag or collar. Last seen in the 1300 block of Cherokee and 13th Street. Well fed but frightened, would not come to me. Black in the face with a semi curled tail. Email to sdu21c@yahoo.com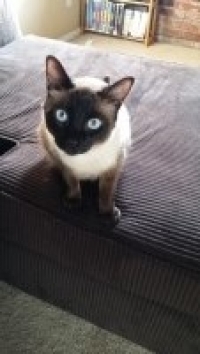 Frisco - Lost
Species: Cat
Sex: Male
Collar: No
Color: seal point--brown and tan
Breed: Siamese
Area Lost: Elmhurst/Brookline
Contact: Lee Ramsey
Phone: 918-886-2861
Email: arblackfootprincess@gmail.com
Date: 2015-04-17
Time: 9 p.m.
Male siamese cat. Blue eyes. Black points. 3 years old. Neutered.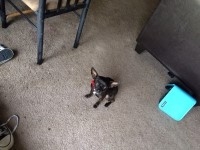 Ash - Lost
Species: Dog
Sex: Male
Collar: Yes
Color: Black
Breed: Chihuahua
Area Lost: Willow Creek and Hazel
Contact: Mikayla M
Phone: 918-977-0420
Email: mikaylamoore82@gmail.com
Date: 2015-04-12
Time: 2:30pm
black Chihuahua with a white patch on chest and chin. 3 years old. starting to show some grey around mouth. very sweet with females but doesn't like makes especially wearing baseball caps. skittish when approached. was wearing a red collar when he escaped out of the garage door. was last seen running north on willow creek north towards the willows apartments Sunday afternoon. Greatly missed.