Dog GONE
Dog Gone is heard on each of our stations daily. When we receive an announcement, we air it for at least 10 days before discarding it. If your animal is lost or found within that time period, please let us know, so we will discontinue airing the announcement. Click HERE to submit an announcement. If your animal has been found, please contact us at (918) 336-1001 or email sharon@bartlesvilleradio.com as soon as possible so we can remove it from our list. We retain the right to edit any postings.
Here are links to local websites: Washington County SPCA www.wcspca.org and ARF www.arfok.org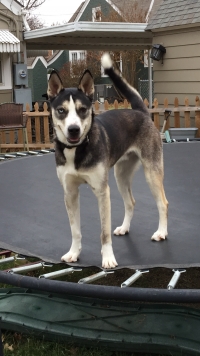 Cosmo - Lost
Species: Dog
Sex: Male
Collar: Yes
Color: Black & White
Breed: Husky/Shepherd Mix
Area Lost: 15th & Osage
Contact: Matt
Phone: 918-841-9360
Email: mcoulter876@gmail.com
Date: 2016-12-07
Time: 2:50pm
Husky/German Shepherd mix, answers to the name of "Cosmo". Kind dog. House broken. Sits on command. Please contact if found.
Lost
Species: Dog
Sex: Female
Collar: No
Color: Red
Breed: Red Heeler
Area Lost: Eastland Shopping Center
Contact: Lindsey
Phone: 918-332-1992
Date: 2016-12-02
Time: 9:30 AM
Ten weeks old, has no tail. White line across head, black spot on butt.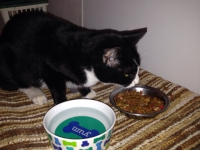 Found
Species: Cat
Sex: Female
Collar: No
Color: Black and white
Breed: Domestic Shorthair
Area Found: Minnesota and highway 75
Contact: Leigh
Phone: 918-331-9966
Date: 2016-12-01
Time: eving
Leave a mesaage if no anwser. She has been spayed and still has her stitches.
Remington - Lost
Species: Cat
Sex: Male
Collar: Yes
Color: White with black ears & tail
Breed: Mixed
Area Lost: Ranch Road off Nowata & Madison
Contact: Margie
Phone: 918-440-8282
Date: 2016-11-30
Time: 2pm
blue eyes with blue collar with bell - indoor cat about 6 years old