News
Washington County Board of Commissioners
Posted: Apr 11, 2016 11:47 AMUpdated: Apr 11, 2016 11:47 AM
Washington County Commissioners Take Care of a Lot of Business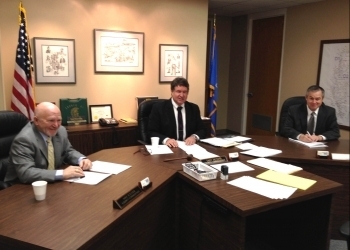 Diane Coston
Washington County Commissioners had a lot on their plate during the regular meeting on Monday. A letter from County Treasurer Brad Johnson tendering his resignation was accepted. Commissioner Mike Bouvier said Johnson did a good job for the county.
A proclamation declaring the week of April 10 through the 16 as National Public Safety Telecommunicators Week was read and accepted. Commissioner Mitch Antle also talked about a proposal for a feasibility study for a new fairgrounds complex.
Antle said there are three properties around Washington County that will work but the proposal for the feasibility study is just the start.
« Back to News