News
Business
Posted: Oct 12, 2016 7:18 AMUpdated: Oct 12, 2016 7:18 AM
Phillips 66 and PSO Break Ground on Substation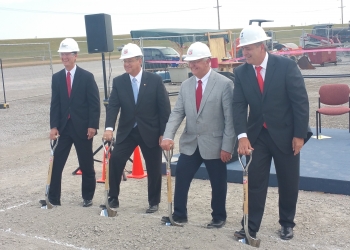 Charlie Taraboletti
Phillips 66 joined Public Service Company and Dallas-based contractor, Brandt Companies as they broke ground Tuesday afternoon on a new electrical substation at the Research Center. Vice-President of Technology for Phillips 66, Merle Lindstrom says the new substation will minimize power disruptions and increase power reliability for the site.

The infrastructure upgrade program is the result of a Phillips 66 Research Center study of the long-term future of the site. Lindstrom says a lot of work has already been done.

The substation is a multi-year, multi-million dollar investment in the Phillips Research Center.
« Back to News