News
Local Schools
Posted: Mar 20, 2017 7:17 PMUpdated: Mar 20, 2017 7:17 PM
Bartlesville Board Endorses Huff as Athletic Director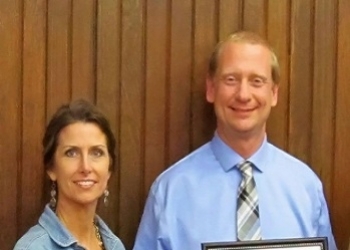 Charlie Taraboletti
The Bartlesville School Board unanimously endorsed Superintendent Chuck McCauley's recommendation to name Ryan Huff as the new Director of Athletics and Activities. McCauley says his selection committee -- comprised of parents, teachers, administrators, and representatives of both sports and activities programs -- found him to be the top candidate.
Ryan says he actively seeks involvement from all parties involved in any decision.

Ryan says it was nice to see the board recognize members of the swimming and wrestling teams but he wants to make sure that activities such as speech and music events are also recognized for excellence.

Ryan will take over the Athletic Director duties on July first. His Assistant Principal at Central, Keri Gardner will take the top job at the school on the same day.
« Back to News