News
Local News
Posted: Apr 17, 2017 12:58 PMUpdated: Apr 17, 2017 12:58 PM
AG Hunter Reminds Rotarians of Opioid Problems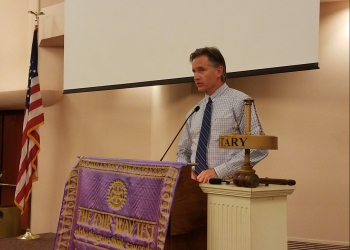 Charlie Taraboletti
Oklahoma's new Attorney General Mike Hunter spoke to Bartlesville Rotarians during a noon-hour meeting on Monday. Hunter spoke of the state question voters passed in November that made simple possession of certain drugs a misdemeanor.
According to Hunter we still have a problem with those people who use and are addicted to opioids -- the prescription drugs that usually are dispensed as pain killers and are highly controlled because of their addictive nature. Hunter says Oklahoma is among the national leaders of states with an opioid problem.

Hunter told the audience that the state will continue to have a problem until funds are available for rehab, counseling, and treatment programs.
« Back to News