News
State of Oklahoma
Posted: Jan 12, 2018 4:38 PMUpdated: Jan 13, 2018 6:13 AM
Study Suggests Oklahoma Low On Family Friendliness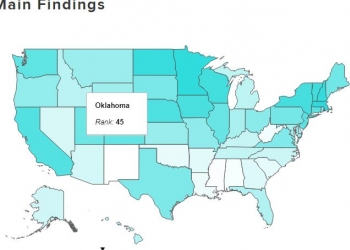 Ben Nicholas
A new study suggests that Oklahoma might not be the best place to raise a family in 2018.
According to Wallethub, Oklahoma ranks 45th out of the 50 states as one of the worst in "family-friendliness." 42 indicators were used in the study, and the data set ranges from median family salary to housing affordability to unemployment rate.
According to the statistics, WalletHub shows Oklahoma ranks 18th out of percentage of families with young children, and 23rd out of 50 in child-care costs. However, Oklahoma also ranks 41st in infant-mortality rate, 37th in both violent crime rate and families in poverty, and 43rd in separation & divorce rate.
« Back to News