News
Sports
Posted: May 21, 2018 7:54 AMUpdated: May 21, 2018 6:37 PM
Matt Parker Steps Down From OKWU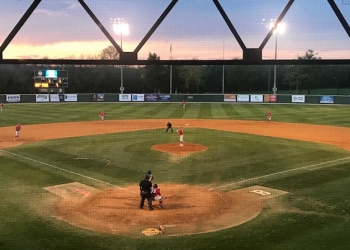 Evan Fahrbach & Max Gross
Oklahoma Wesleyan head baseball coach Matt Parker has left the program after seven stellar seasons in Bartlesville. Former OKWU head coach and Eastern Oklahoma State coach Kirk Kelley will have his old job back at Wesleyan - while Parker has taken the job at Eastern Oklahoma State College in Wilberton.
Parker will serve as the head baseball coach as well as the athletic director at Eastern.
Parker talks about the appeals on the Eastern Oklahoma State job.
The departure of Parker is the end of an era of Eagle baseball that has been the school's best. Parker will finish with a 325-113 record. Parker had guided Wesleyan to six 40-win seasons, including five straight to end his tenure.
Parker says he'll miss the relationships he built at OKWU.
Parker replaced Kelley in 2012 at Wesleyan.
Wesleyan advanced to the NAIA World Series twice during his stint as Eagle skipper – in 2017 and 2014. OKWU missed out on making its second-consecutive World Series appearance this season, after finishing at 53-8 and losing in the Upland, Indiana Regional finals.
Eastern Oklahoma State is a public community college that competes in the National Junior College Athletic Association in Region 2.
« Back to News