News
Washington County
Posted: Jun 13, 2018 2:57 PMUpdated: Jun 13, 2018 2:58 PM
Arvest Provides More than 2.1 Million Meals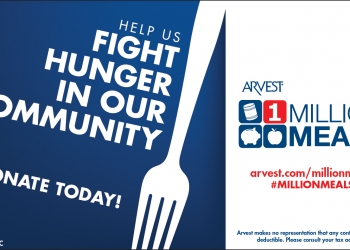 Ben Nicholas
After months of generous donations, Arvest Bank has set a record for the number of meals raised for the 1 Million Meals initiative.
Arvest launched its annual initiative to fight hunger in the four-state region the bank serves two months ago. Today, the bank announced that it has exceeded the campaign goal by raising a record total of 2,114,630 meals in the fight against hunger.
This year's total was made possible through donations from the bank, Arvest associates, customers and community members through fundraisers, events and nonperishable food drives in all Arvest branches throughout April and May. With summer here, the success of the campaign is especially meaningful because many schoolchildren will be without the meals they ordinarily receive at school.
In Bartlesville and Dewey, Arvest partnered with Mary Martha Outreach for the campaign. The organization received all local donations, and this year 45,982 total meals were provided. All money and food items raised through this campaign directly benefited more than 75 organizations, feeding local communities in Arkansas, Kansas, Missouri and Oklahoma.
Launched in 2011, Arvest's 1 Million Meals campaigns have raised a total of 13,600,098 meals, which includes more than $2.3 million in funds given directly to the bank's dozens of local food partners.
« Back to News