News
Sports
Posted: Jun 14, 2018 8:18 AMUpdated: Jun 14, 2018 10:26 PM
Indian's Fall to Ft. Smith - Play Again Thursday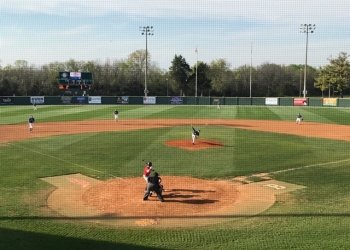 Evan Fahrbach
It seemed as if every pitch the Sportsman saw found the outfield grass.
The Doenges Ford Indians came back home and ran into a buzz saw on Wednesday night against Fort Smith, Arkansas. Ft. Smith came into Bartlesville and blasted the Indians 19-3.
The Sportsman stung Bartlesville pitching for 24 hits over seven innings. The game was called after seven-innings due to a run-rule, it was originally scheduled to be nine frames.
Ft. Smith scored three runs in the first and second innings and led 6-0. The Sportsman then added six more in the top of the third, scoring all six of the runs with two outs.
That pretty much put the nail in the coffin, Bartlesville did keep battling at the plate. The Indians scored on this Cole Ellis bloop single in the third.
B'ville was hardly anemic offensively. The Indians got six base hits in their seven at-bats, but nothing was enough to stop the Ft. Smith attack at the pate.
The Indians are back at home on Thursday for a double-header against Three-Rivers. Bartlesville is 1-0 against the Bandits this season, owning a 13-4 win during the first game on the season back on June 2.
First pitch at 6:00 PM – we will air both games on KWON – AM 1400 and FM 93.3 - also online at BartlesvilleRadio.com and on the Bartlesville Radio App.
« Back to News