News
Bartlesville Police
Posted: Aug 19, 2018 3:15 PMUpdated: Aug 20, 2018 1:22 PM
Hit and Run Kills Bartlesville Man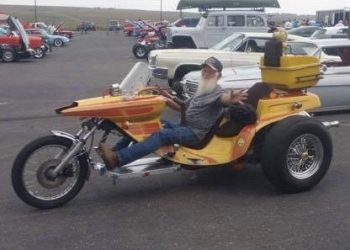 Garrett Giles
A hit and run accident occurred in Bartlesville late Saturday afternoon killing Cleo "Cotton Bowl" Lewis. Lewis had taken his motorcycle for a ride and was heading east on Frank Phillips Boulevard when a car ran a stop sign and hit Lewis.
Officer Jay Hastings with the Bartlesville Police Department says witnesses didn't see the accident occur but they did witness the car driving off.
Emergency responders sent Lewis to a Bartlesville hospital before he was life flighted to St. John's Hospital in Tulsa. Lewis died shortly upon arrival.
The police department still has pieces to put together for the case and officer Hastings says anyone with more information on the hit and run should call 918-338-4001.
Police have taken a car that matches the damage done to Lewis' trike in as evidence. They have also questioned the driver of the vehicle. Lewis leaves a huge family and plenty of friends behind.
(Photo credit: Logan Lewis)
« Back to News