News
Nowata County
Posted: Mar 19, 2019 10:53 AMUpdated: Mar 20, 2019 3:40 AM
Judge Gibson Alleges Jail Mismanagement in Heated Trial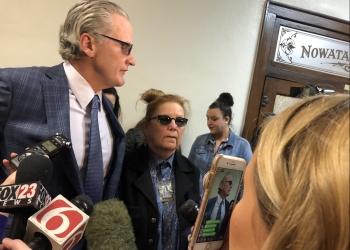 Max Gross
More confusion than answers were provided at an administrative order hearing at the Nowata County Courthouse regarding the operation of the Nowata County jail by former sheriff Terry Sue Barnett.
The hearing featured several heated exchanges between Barnett's lawyer, Paul Demuro of Tulsa, and judge Carl Gibson. Demuro said in the courtroom he had never seen anything like this hearing in 22 years. The lawyer had this to say in a press conference after the hearing.
Judge Gibson started off the hearing with a long statement of accusations against the former sheriff and her operation of the jail. Gibson stated, "the sheriff has shown a willful indifference toward the budget."
As a part of the hearing Gibson called several law enforcement officers to give testimony of an incident where a dangerous alleged criminal from South Coffeyville was refused by the Washington County Jail and Barnett requested the man be released on medical own recognizance bond. Demuro refused to read a probable cause affidavit over the incident because he believed it was not relevant to the case. Gibson then yelled at the attorney to read the document.
The purpose of the hearing was unclear and at its conclusion nothing more was decided. Demuro repeatedly protested the proceedings because he was not notified that this would be an evidentiary hearing. Demuro stated that Barnett stands by all of her actions.
In his lengthy statements, Gibson made no reference to the accusations of bribery that Barnett made on Monday during a press conference. (story link) Demuro mentioned that he would've liked an opportunity to question Judge Gibson.
District two commissioner Burke LaRue confirmed that the sheriff's resignation is official and the judge had no authority to prevent it. LaRue felt like positive progress was being made before the developments this week.
LaRue says all law enforcement agencies have been notified about Barnett's resignation, but the steps going forward are unclear. LaRue says that he doesn't think much was accomplished in the hearing.
An emergency meeting of the Nowata County Commissioners is scheduled for 9 a.m. Wednesday where Barnett's resignation will be officially accepted.
« Back to News