News
Sports
Posted: Jan 24, 2020 2:30 PMUpdated: Jan 24, 2020 2:32 PM
Lady Bruins Win, Bruins Lose on Friday in OKC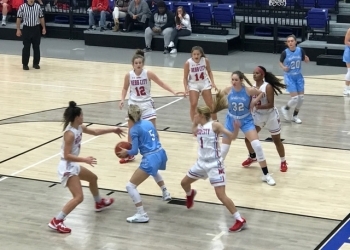 Evan Fahrbach
The Bartlesville Lady Bruins hoops squad turned things around on Friday afternoon in Oklahoma City, holding on to a narrow win in the consolation bracket of the Carl Albert Titan Classic.
Across town, the Bartlesville guys let a halftime lead slip away.
The Lady Bruins topped the OKC Storm, a home-school club from the Oklahoma City metro, 53-51. BHS hit six straight free throws to withstand a three-point barrage from the Storm down the stretch.
Chloe Martin hit four of the six shots from the charity stripe, en route to a team-high 15 points. Lydia Knollmeyer added 12, while Allie Wood had a season-high 11 points.
BHS would trail briefly in the second half, 40-38, after watching a nine-point halftime lead dwindle away. Martin hit a three pointer to put Bartlesville back up by one on its ensuing offensive possession, and the Lady Bruins would never trail again.
Bartlesville (6-7) will now face Carl Albert (10-4) in the consolation finals on Saturday at 1:00 PM. We will air that contest on KWON – AM 1400 and FM 93.3.
Carl Albert topped BHS by three-points in the second round of the ConocoPhillips Arvest Invitational back on Jan. 10, 39-36. Bartlesville was without Martin in that game.
---
In Edmond at Deer Creek High School, the Bruin guys fell to the OKC Knights, 61-47.
Bartlesville led 23-21 at halftime after 19-second quarter points, but the Bruins could not keep up offensively in the second half.
BHS (1-12) will face the loser of Westmoore vs. Destiny Christian at 11:30 AM in an auxiliary gym in Deer Creek for seventh place on Saturday. The Bruins are trying to snap a nine-game losing skid.
No radio coverage of the Saturday contest for the Bruins, but we will have score updates during the Bartlesville girls game.
« Back to News