News
Bartlesville
Posted: Sep 16, 2020 10:31 AMUpdated: Sep 16, 2020 10:36 AM
COVID-19 Not Affecting Local ConocoPhillips Employment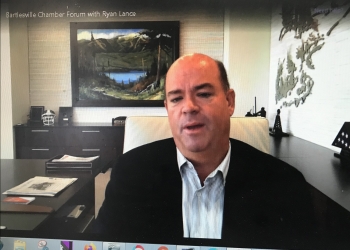 Garrett Giles
The Bartlesville Regional Chamber of Commerce hosted ConocoPhillips Chairman and CEO Ryan Lance for a virtual forum on Wednesday morning.
During the approximately 25 minute forum, Lance said COVID-19 and the current economic environment has not affected employment at ConocoPhillips in Bartlesville. He said people have been working from home during the bulk of these past six months as they continue to deal with the coronavirus pandemic.
Recognizing the significance of the pandemic early on, Lance said ConocoPhillips formed a Crisis Management Team. He said they put a method in place for the company's global operations to try to understand how the virus would impact each of its locations, including Bartlesville.
Each location in Bartlesville has been impacted by the pandemic as Lance said people have been working from home. He said they have had approximately 15-percent capacity in their offices in Bartlesville.
Lance said ConocoPhillips hopes to have 80 to 85-percent of its employees in Bartlesville in the office by the end of the month. He said the company has spent money to address open space concepts so they can return employees to the office while remaining flexible.
People who have a high risk for catching the virus as defined by the Centers for Disease Control and Prevention (CDC) will be asked to continue to work from home and not return to the office. That in mind, Lance said the office is a safe place and ConocoPhillips has put a lot of protocols in place. He said they also recognize that schooling could prove to be difficult this year, so they will stay true to being flexible with their employees.
« Back to News