News
Bruins
Posted: Sep 26, 2020 6:00 AMUpdated: Sep 26, 2020 6:00 AM
Bixby Gets the Best of Bruins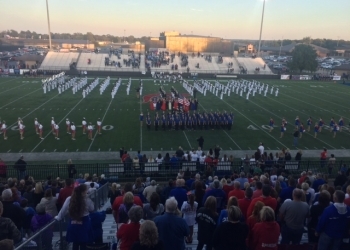 Max Gross
Bartlesville struggled mightily on Friday night against one of the best teams around. Bixby was victorious, 74-7. The Spartans look every bit of a state title contender once again. The Spartans were solid out of the gate as they took a 53-0 lead into halftime. Bixby quarterback Mason Williams ended with seven touchdown passes in a dominant effort.
The Bruins managed to find a few bright spots in a rough night. Gage Keaton caught five passes for 64 yards. Dylan McCoy had 97 yards in the contest including this late touchdown.
Jensen Laws put together a nice defensive effort with two sacks on the night for the Bruins. Overall, Bartlesville was outgained 595-205. The Bruins will need to collect themselves as district play resumes next week with a home game against Booker T. Washington. The Bruins dropped their straight football game to fall to 1-3.
« Back to News