News
Area Basketball
Posted: Jan 13, 2021 12:39 PMUpdated: Jan 13, 2021 12:39 PM
Area Teams Filling Up 2A Rankings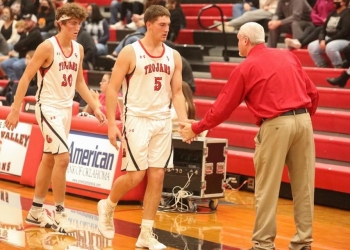 Max Gross
The Northeast Oklahoma area had been one of the state's best kept secrets in terms of basketball success. It appears this year that is no longer the case with several area teams getting respect in the rankings. Currently four area 2A Boys' team are in the top 20 and one area girls' team.
No. 4 Oklahoma Union has made waves all season long. The Cougars have wins over 5A Pryor and 4A Oologah on the season. At 11-0 OKU deserves the acclaimed they've received. Last season the Cougars spent over a month at the No. 1 spot in the rankings.
No. 9 Pawhuska made a coaching change in the offseason. Former Texas-Arlington women's assistant Talby Justus now leads the Huskies who have not missed a beat this year after being one win away from a state tournament appearance in 2020. Pawhuska is 5-1 on the season after getting a late start on basketball due to a deep postseason run in football.
No. 11 Nowata is no stranger to the 2A rankings either. The lone blemish for the 8-1 Ironmen is a three-point overtime loss to Oklahoma Union in December. Nowata has an average margin of over 30 points in its victories this season. The Ironmen still have two regular season matchups left with OKU to determine Northeast Valley Conference superiority.
No. 18 Caney Valley has snuck under the radar before but appears to be making a name for itself this season. The Trojans boast of one of the area's top talents in junior forward Daniel Barham (pictured, middle). CV is 5-2 overall after suffering a 67-32 defeat to OKU on Tuesday night.
On the girl's side No. 14 Oklahoma Union has been the cream of the crop. The Lady Cougars won the Ty Hewitt Memorial Tournament title in December. OKU has beaten two 4A teams—Oologah and Mannford.
PHOTO COURTESY: Tracy's Photography)
« Back to News