News
Kansas
Posted: Feb 23, 2021 6:31 AMUpdated: Feb 23, 2021 12:07 PM
Update: Fire Extinguised Behind Casey's in Caney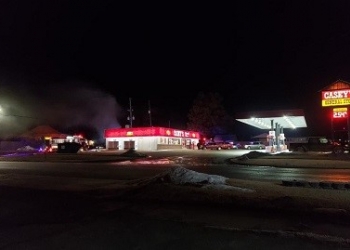 Tom Davis / Garrett Giles / Jared Sleppy
A structure fire was reported at a home behind the Casey's General Store in Caney early Tuesday morning.
The fire was at a nearby garage on 104 N. Ridgeway that was reported at 5:19 a.m. The Caney Police Department said that the fire spread to the garage of 106 N. Ridgeway.
Caney Fire and Rescue crews were on the scene and were able to get the flames extinguished. There were no injuries during the fire and the cause of the fire is currently under investigation.
Photo courtesy: Tina Romine
« Back to News