News
Sports
Posted: Feb 23, 2021 7:03 AMUpdated: Feb 23, 2021 7:03 AM
Bruins Knock Off Muskogee - Playoffs Next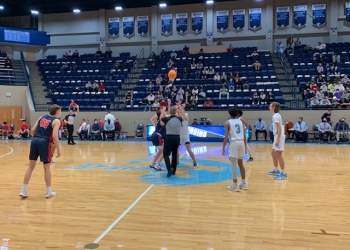 Evan Fahrbach
In the last regular season game of any team locally, how about the Bartlesville High boys basketball team on Monday night, knocking off Muskogee at Bruin Field House.
Bartlesville topped the Roughers 64-61 in overtime to seal its sixth win of the year and grab some momentum heading into the postseason.
BHS trailed by as many as 12 in the first half, but outscored Muskogee 25-11 in the third quarter to take the lead.
The game would seesaw back and forth with nine lead changes and three ties in the fourth quarter and overtime periods, but as usual, the Bruins had the best player on the floor.
Freshman David Castillo made this three, which would put BHS on top for good.
Castillo finished with 25. Aadhi Ayyappan was also huge, he hit five three-pointers and scored 18.
The Lady Bruins fell in the girls game, 51-30.
Regionals up next for both teams, girls Thursday at Union – guys Friday against Midwest City at Norman North.
« Back to News