News
Nowata County
Posted: Jun 27, 2016 3:12 PMUpdated: Jun 27, 2016 3:53 PM
Commissioners Accept Sales Tax Plan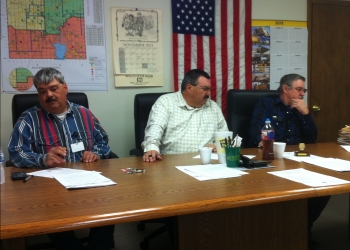 Adam Hooper
The Nowata County Commissioners spent most of Monday morning's meeting going over the county's sales tax plan. After much discussion, the commissioners approved the sales tax plan for fiscal year 2017 with a cost of $206,731.06, which is down $22,000 from last year. The last few years, the county has seen a decrease in sales tax and that's a concern for county officials to keep up with funding programs. The Free Fair and the County Extension Office request for a budget increase was denied. Commissioner Doug Sonenberg.

All of the departments received the same amount as last year.

The commissioners discussed the health insurance plan for county employees. No action was taken, but county officials are still shopping around for the best deal.
« Back to News