News
Local News
Posted: May 17, 2017 3:29 PMUpdated: May 18, 2017 6:04 AM
Bartlesville Man Arrested for Meth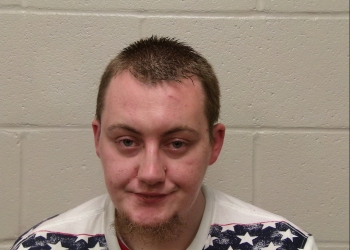 Bill Lynch
A Bartlesville man is in a Washington County Correctional Facility. Dakota Tyler Buoy was believed to have committed to the offenses of possession of controlled dangerous substance and paraphernalia according to an affidavit.
The arresting officer was backing another officer at a traffic stop at the intersection of Grandview and Rolling Meadows on Wednesday, May 17, 2017. The arresting officer noticed Buoy operating a yellow motorcycle traveling westbound on Rolling Meadows without headlights on.
He then followed Buoy, stopping him at another traffic stop near Grandview and Woodland. Upon making contact, the officer noticed that the tags on Buoy's motorcycle had expired in January of 2017. When making contact, Buoy identified himself and the officer ran the information through dispatch who said that there was a City of Bartlesville warrant out for his arrest for $922. The motorcycle was reported as not being insured too.
Buoy failed to respond to the officers command to put his hands behind his back according to the affidavit. That's when the officer says Buoy was trying to slip off a glove he'd been wearing along with a small silver cylinder container attached to a rubber wrist bracelet inside his bag. The officer was able to grab Buoy's left wrist and place him in handcuffs as Buoy attempted to discard the possessions.
A field search of Buoy was then conducted by the officer. He seized the silver container, and a small metal peppermint container that was in his left shorts pocket. In the peppermint container (according to the affidavit) was a zip lock baggie that contained a white powdery substance with a 9mm bullet with the same substance inside it, and a red straw that appeared to be used for drug paraphernalia. The officer then used a field kit on the substance to determine that the substance was methamphetamine.
Buoy had a $3,000 bond and is to appear in court on June 2nd on the charges of possession of methamphetamine and paraphernalia. He also faces charges driving without headlights, no proof of insurance, expired tags, and for a failure to appear warrant.
« Back to News