Sports » Latest News
Sports
Posted: May 25, 2023 7:04 AMUpdated: May 25, 2023 8:05 AM
Bartlesville Spring Football Game on Thursday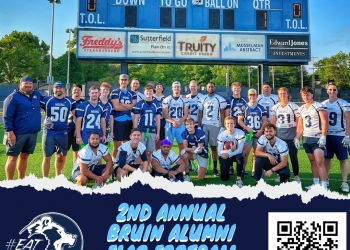 Big spring football game on Thursday night at Bartlesville High, as the regular spring portion of the high school football season will end this week.
BHS will have several activities at Custer Stadium, starting with the alumni flag football game.
The Bruins will go through one or two of those games before the varsity members of the football squad take the field.
The event has taken on an added emphasis since head coach Harry Wright took over the program last year. Wright says he thought it could rally the community around the football program and serve as a kickoff to summer in the area.
As far as football, Wright talks about what he looks for in this spring game.
Last year's spring game served as a coming out party for a couple notable Bruins. A handful of unknowns made their presence felt during the spring before bursting onto the scene in the fall.
Wright says this is the time for underclassmen to take center stage.
Gates open at 5:00. There will be music, food and games for every member of the family. There will be Bruin gear available to purchase and football parents can take care of many of their preseason duties.
Keep it tuned to KWON's social media channels and BartlesvilleRadio.com for coverage of the event on Friday.
« Back to Sports