Sports » Latest News
Sports
Posted: Feb 14, 2020 7:03 AMUpdated: Feb 14, 2020 8:12 AM
Bartlesville Travels to BA on Friday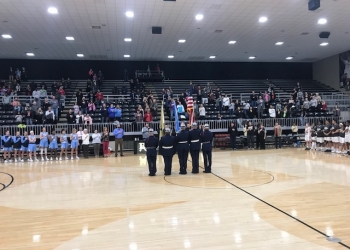 Both the Bartlesville High basketball teams are searching for wins in the final week of the regular season, and both will have another tall task on Friday at Broken Arrow.
BA already swept BHS in a double-header to begin 2020, as the Lady Bruins and Bruins lost to the Tigers at home on Jan. 7.
On the ladies side, BHS has lost six straight and appears to be scuffling a bit from the outside looking in. However, despite the losing streak, Bartlesville played some of its best basketball of the season in a loss at Jenks on Tuesday. Head coach Donnie Martin explains.
The Lady Bruins scored 67 points in an 11-point loss to Jenks, the most they've tallied all season. BHS scored at a 1.07 points per possession clip. Both Chloe Martin and Lydia Knollmeyer notched season highs scoring the basketball.
On the guy's side, BHS is still looking to gain confidence shooting the basketball. The Bruins shot only 20 percent from the field in a loss to Jenks on Tuesday. BHS was outscored 27-5 in the final 13 minutes of the game. Head coach Clent Stewart says he wants his guys to take – and make – open shots.
Bartlesville at Broken Arrow, girls tip at 6:30 with the boys to follow around 8:00. You can listen to both those games on KWON – AM 1400 and FM 93.3.
You can watch the twin bill as well on KWONTV.com.
Also - both the BHS playoff brackets were released on Thursday afternoon - we have the entire schedule and bracket on this story.
« Back to Sports