Sports » Latest News
Posted: Jan 24, 2023 1:01 AMUpdated: Jan 24, 2023 2:01 AM
Bethany Upsets #2 Eagles; Snaps Lady's Win Streak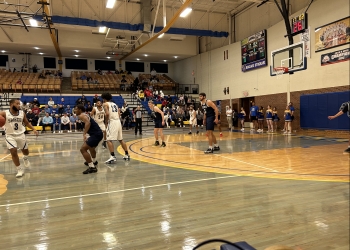 Oklahoma Wesleyan would make the trip to Lindsborg, Kansas, to try to keep its hot hand hot.
Unfortunately for both Eagle squads, It would be Bethany's night.
The #2 Eagles would get down by 12 early, get up by double-digits late and then fall 66-61.
Jaden Lietzky would score 25 points in the effort, but OKWU could not overcome being down two starters, shooting 33% from the free throw line and going 3 for 19 from three.
The loss snaps OKWU's 15 game winning streak and the goose egg in the loss column in conference play.
OKWU falls to 19-2 this season with a 14-1 KCAC record.
The Lady Eagles would try to keep their four-game winning streak going and avenge a one-point loss earlier to the Swedes but could not losing 79-68.
A big Swede run in the third quarter would prove to be too much to come back from, but OKWU would make it close in the fourth despite the 11-point loss. That stemming from late game free throws to try to extend the game.
Sydnee Schovanec put up 18 points.
The Lady Eagles fall to 7-14 this season with a 6-9 conference record.
Oklahoma Wesleyan will look to bounce back against Bethel at home Thursday.
« Back to Sports