Sports » Latest News
sports
Posted: Mar 23, 2023 7:42 AMUpdated: Mar 23, 2023 8:53 AM
BHS Girl's Soccer Bests Jenks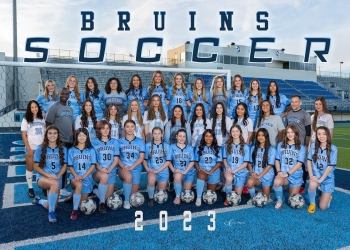 Bartlesville High girl's soccer is coming off one of its best wins in a while. The Lady Bruins beat Jenks in penalty kicks on Tuesday evening, 7-6.
It is the first win for BHS against Jenks in a number of years and it came in dramatic fashion. BHS is under direction of first year head coach Cedric Muteshi.
Muteshi gives us details of the PKs in Bartlesville's win over the Trojans.
The win improved Bartlesville to 2-1 on the sesaon, as BHS only has one more match before District play begins a week from today.
Muteshi says after a slower start the Lady Bruins are starting to pick up steam.
Bartlesville's next contest will be on Tuesday against Rogers Heritage.
Both BHS soccer teams will start District action this coming Thursday against Bixby.
« Back to Sports